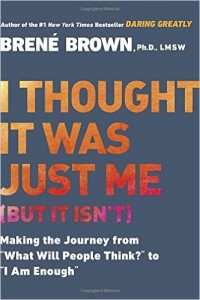 Our February book of the month is I Thought It was Just Me (But It Isn't): Making the Journey from, "What Will People Think?" to, "I Am Enough" by Brené Brown.
This is a book on everyone's favorite topic: Shame. Wait, that's not your favorite subject? It's your LEAST favorite topic? The topic you'd give anything to avoid talking about? The one where you'd rather run and hide instead of admit something that you're ashamed of? Yeah, me, too!
See, you're not alone! We all feel that way, and that really is the secret about shame. We all feel it, and we all try to hide it. But if you follow Brené's advice, you'll discover how to develop shame resilience, and speaking from my own personal experience, she's absolutely right.
Shame sucks and to help you free yourself from its vampiric clutch, I'm giving away a copy of this book to my readers. To be entered into the drawing, just click the button below to sign up for my newsletter! Drawing occurs February 19th, so enter now!