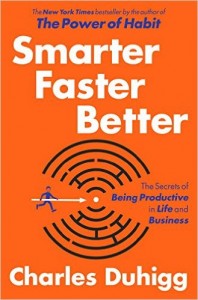 Charles Duhigg reached out to let me know he had a new book coming out, "Smarter, Faster, Better: The Secrets of Being More Productive in Life and Business", because I had emailed him to thank him for his other best selling book, "The Power of Habit: Why We Do What We do In Life and Business" which helped inspire my own book (Coming out in November!!!).
One of the brilliant insights in "The Power of Habit" is that your habits are what you choose them to be. It's a great book, and I highly recommend it.
I just finished "Smarter, Faster, Better" a few days ago, and if you want to be more productive but less busy, than you should check it out.
This month, I recorded a video to announce the book of the month, because in the Absorbing Data chapter, he suggests that telling someone what you just learned helps you learn and apply information better. Which, of course, is not a new idea, but Charles does a great job of using stories and case studies to illustrate his points. I finally got it!
So, here's my video review of "Smarter, Faster, Better"
I'm giving away two copies of this book. 1 will go to a giving circle member. Check out www.VirtualGivingCircles.com if you want to find out more about that. And one to a member of my audience.
So if you want a chance to win a copy, click the button below! Drawing occurs April 24th, 2016.