Our January book of the month is this delightful book….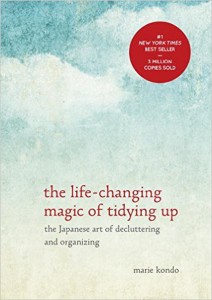 The Life Changing Magic of Tidying Up: The Japanese Art of Decluttering and Organizing by Marie Kondo.
And can I tell you that I love it?! This book isn't really about organizing your stuff. Although that's a big part of it. The magic of her book is that it will change your relationship with your stuff. It changes how you feel about your stuff. It frees you from being owned by your stuff.
January feels like the perfect time to share this book with you, since one of your New Year's resolutions may be to get organized this year.
And I'd like to help you reach that goal, so I'm giving away a copy of this book to my readers. To be entered into the drawing, just click the button below to sign up for my newsletter and tell me which room you would tidy up first! Drawing occurs January 14th, so enter now!