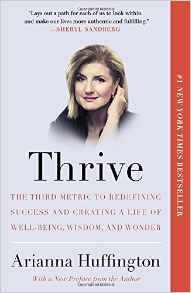 "Onward, upward, and inward!" says Arianna Huffington.
For years, we've been told that we must press onward and upward to achieve success as measured by money and power. Conventional wisdom implies that we have to choose between professional success and personal success. But the truth is that not only is professional success without personal success the ultimate failure, but our personal success has an important role in creating professional success.
Thrive is all about going inward to develop our well-being. She wants us to get in touch with our inner wisdom and guidance, to feel wonder and awe at the beauty of the world and the human spirit, and to give to others. Drawing on her own experience and the latest research and science she shows the profound and transformative effects of meditation, mindfulness, unplugging, and giving.
I'll be giving away 2 copies of the book. One to a giving circle member and one to my newsletter subscriber on June 30th. 2016. Please note that if you are outside the U.S., you'll receive the kindle version of the book.
To enter the drawing, click the button below to subscribe to my newsletter.