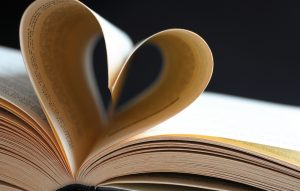 I am a self-confessed self-help junkie, and I find it hard to resist cute, little, inspirational books. A couple months ago, I saw Oprah's What I Know For Sure on the shelf of my local Barnes and Noble, and I was drawn to it immediately. It could have been the Oprah name. It could have been the title. It could also be that it's a beautiful book: bound in linen with a ribbon book marker attached to the binding. If you're like me, and you love books– actual, physical books– then this is the kind of book that just warms you up inside. With this kind of love put into the production of the outside, I imagined I would find a lot of love inside, too.
Yes, I judged a book by it's cover, but I was not disappointed. For the past 14 years, Oprah has written an opening article for her magazine called… "What I Know For Sure". Throughout the years, these articles have offered words of encouragement, inspiration, and wisdom. In this book, those articles are compiled, revised, and organized into 8 different categories: joy, resilience, connection, gratitude, possibility, awe, clarity, and power. Each entry is a brief yet insightful exploration into how to enjoy life more and become a better person.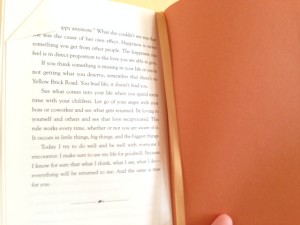 Each night before going to bed, I would read a couple entries and without fail, I'd feel better. I'd fold over a corner for lessons that made a special impact me, like when she wrote, "If you don't already know that you have worth, there's nothing your friends, your family, or your mate can say that will completely convince you of that." Isn't that true? No matter how hard we try to impress others and be worthy of love, if we don't already believe it, no matter how many accolades we receive or how much reassurance we get, there's still that tiny voice whispering, "What about now?"
The book ends with the wisest words of all, "I try to do well and be well with everyone I encounter. I make sure to use my life for goodwill. Because I know for sure that what I think, what I say, what I do– everything will be returned to me. And the same is true for you."
This book is really about Living Generously. It's about taking care of yourself and taking care of others. It's about loving yourself so you can love others. And the messages are delivered in bite size pieces with all the warmth and love that Oprah is known for.
What I Know For Sure
That I keep getting better. That life keeps getting better. Oh, and I know for sure that if Oprah ever read my book, release date of November 2016, I know she would love it! I can't believe I confessed that to the world!
What Do You Know For Sure?
Leave me a comment. I'd love to hear what you know for sure.