92% of people will fail to keep their New Year's Resolutions. 92%!!!
Why? Because they will rely on their willpower to make it happen, but willpower is in a losing battle with the reality of your daily life. If there is any chance you are busy, stressed out, or not getting enough sleep, then there's a good chance your willpower will fail you when you need it most.
The good news is that you don't have to rely on your willpower. You can create habits. When something is a habit, you don't have to think about. You don't have to decide to do it. You don't talk yourself out of your morning cup of coffee, and you don't forget to brush your teeth in the morning. You can achieve that with any desired behavior.
If you are struggling to keep your New Year's Resolution, my advice is to stop trying so hard. Repetition is the mother of habit. It's not intensity. It's not duration. It happens one day at a time one action after the other. It doesn't have to be hard or stressful. It's just the result of gentle, consistent action.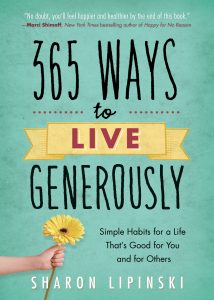 That's why I wrote 365 Ways to Live Generously as a daily book. Each day you have an opportunity to practice one of the 7 generosity habits. Each habit appears once a week, so you can make a habit of taking care of your physical health, practicing mindfulness, connecting with others and yourself, expressing gratitude, practicing simplicity, and giving time and money to causes you care about.
You can pick up a copy of 365 Ways to Live Generously: Simple Habits for a Life That's Good for You and for Others at Amazon or Barnes and Noble
BTW, I'll share with you my Habit Mastery training, when you buy the book. Just email me a copy of your receipt, and I'll send you a link.