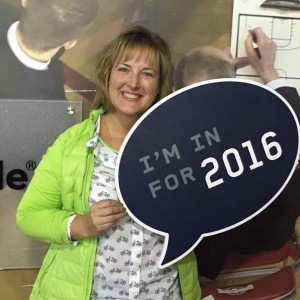 I'm excited to introduce you to Mary Beth Cowardin for my new feature: Generosity Profiles. In Generosity Profiles, I'll be highlighting people who are Living Generously, and since there are many facets of generosity, I'll also highlight an aspect this person exemplifies.
Mary Beth has more than 20 years of experience in marketing consumer products. For the past two years, she has been managing the produce dip business for the T. Marzetti Company where she oversees the veggie dip, caramel dip, fruit dip and pie glaze segments. I know you've all seen those products in your grocery store. She's also worked for Elmer's Products, Inc. of the stationery adhesive business, and was responsible for over $140M in sales of the Elmer's® School Glue, Elmer's Glue-All® and Instant Krazy Glue® brands. Prior to that, Mary Beth spent more than four years in brand marketing with S.C. Johnson working in the Insect Control Division on the OFF!® brand of personal repellents where she launched OFF! Botanicals®, a line of plant-based personal repellents. She also worked in the home cleaning division where she launched fantastick Oxy Power®, and a line of Glade® all-purpose cleaners for the Hispanic market.
Mary obviously has a wealth of corporate experience, but that's not why I'm talking with her. In 2015, Mary Beth did something remarkable. She called it the #greatselfieadventure2015 and she posted a selfie featuring a different non-profit organization on her blog www.TheDailyDoseOfGoodness.com every single day of the year.
Consistency
This is no easy task, because she also took time to learn about the charity and write a thoughtful post on the work they were doing and why it was important. To me, Mary Beth exemplifies the generosity virtue of consistency.
Generosity is not a thought experiment. It doesn't exist until a generous action takes place. So if you want to be generous, you have to act generously. The more generous actions you take, the more generous you are. That's why consistency is so important for generosity. It adds up! So, Mary Beth took at least 365 generous actions last year, and I'd be willing to bet that she took many more generous actions outside of her #selfiesforacause project.
Listen
Stream or download our conversation about how she did it, what she learned, and why she'd do it again.

Keep Up To Date
Keep up to date with the #selfiesforacause project by liking her Selfie Adventure Facebook Page.
Support Her Ride
Mary Beth is co-chair of Girls with Gears, a peloton made up of professional women who ride in Pelotonia, a grassroots bike tour that raises money for The James Cancer Hospital and Solove Research Institute at The Wexner Medical Center at The Ohio State University. In it's 7 year history, Pelotonia has raised over $106MM for cancer research. In 2015, Girls with Gears exceeded the $500K fundraising mark in 6 years of being in existence. In 2016 Mary Beth will ride her 7th Pelotonia and 5th century ride. Her goal is to raise $5,000, bringing her cancer research fundraising to over the $30,000 mark.
Help Mary Beth reach her goal by donating to her ride: www.Pelotonia.org/marybethcowardin