I turn 40 at the end of the month. Some of my readers are in their 20's, and they may be thinking, "Yep, that's old." Some of my readers are over 50, and they may be thinking, "You're still a baby!" Both are probably true.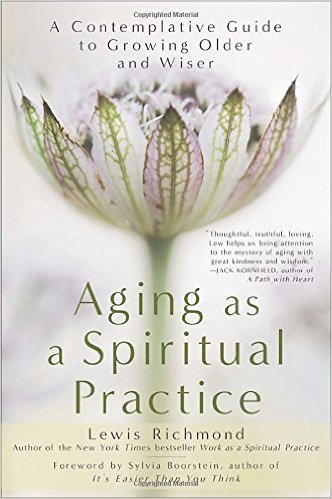 As I reflected on reaching this milestone, I read "Aging as a Spiritual Practice," and that is our July book of the month.
As everyone admits, life is full of change. When you're young it's easier to undergo these changes in the course of building a life without giving them too much thought. But as you get older… But perhaps I should speak in the first person. I've noticed that as I get older these changes demand more time and attention.
Some of the changes are permanent. It's hard saying goodbye to friends and family which happens more frequently these days.
Some of the changes are unwelcome. I've just started taking off my eye glasses to read small print. I don't appreciate the decline in mental and physical performance.
Some of the changes are more difficult to bounce back from. Losing a job or encountering a health issue can make a bigger impact and take more creativity and effort to overcome.
Some of the changes are still promises. Each passing year is a reminder that there's one fewer potential year to look forward to. The home stretch is approaching.
It might sound weird, but that's exactly what I like about getting older. I feel more grounded and connected to life than I ever have. I feel like life is demanding more of me, and to age well means to listen and respond to these demands.
Aging as a Spiritual Practice was an easy, comforting, and helpful read that didn't provide answers. Instead, it offered guidance, reassurance, and spiritual practices like the Calm Lake Meditation and Horizontal/Vertical Time Meditation. Of course, these spiritual practices are helpful for people of all ages, but they become more useful as we get older when the emotional and physical realities of aging impact the quality of our lives. I especially like the mantra the author offered toward the end of the book. If you're familiar with the Loving Kindness Meditation, this is an adaptation.
As everything ages and passes away, may each of us be kind to ourselves;
As everything ages and passes away, may each of accept joy and sorrow;
As everything ages and passes away, may each us be happy and at peace.
A few of the keys to aging well are to remain curious, adaptable, and engaged with life. And when it comes to staying engaged, embracing the role of an elder can be powerful. Recent cultural changes have diminished the role of elders, but I consider myself lucky to have had so many role models, teachers, and mentors. And I like the idea that I am becoming an elder for those following me. These past 40 years have certainly given me some wisdom that is worth sharing.
For anyone who is afraid of getting older, take heart that a 2010 polling of 340,000 people by Arthur Stone of Stonybrook University found that people in their 50's are happier than younger people. And just maybe this book will help you.
I'll be giving away 2 copies of the book. One to a giving circle member and one to a newsletter subscriber on July 28th 2016. Please note that if you are outside the U.S., you'll receive the kindle version of the book.
To enter the drawing, click the button below to subscribe to my newsletter.